This thread is basically a dumping ground for me to put what I've learned and organize my thoughts. If others find it useful, great. And if people can correct some things I'm saying or suspect that maybe I'm saying/thinking something wrong, please elaborate. Or if you just have your own experiences that you'd like to share, bring it on. My apologies for most of the pictures being links. The forum couldn't determine some of the sizes of the images based on URL, so it denied me posting until I just made them links.
I've been curious about HID and LED conversions for quite some time. And for the longest time, they were not recommended for traditional halogen headlight enclosures. HIDs and LED bulbs were better suited to the more modern projectors, not reflectors.
For those not familiar with the term, here's what projector headlights look like: Contrast that with traditional reflector enclosures where the light is broadcast off of the reflective surface you can see:
Clear-lens Mustang reflective headlight
HIDs in projectors is no problem at all. They were specifically designed for HIDs. But trying to run HID or LED conversion bumbs in reflector enclosures generally worked OK for the driver, but due to less focus and control, they caused bad glare for oncoming traffic (a fancy way of saying it's too much in their eyes). Why? Light density.
The source of the light wasn't be as small as a filament which is what reflective enclosures were designed to work with. HIDs produce a right large arc relative to the size of a filament and so some of the light produced by HIDs would be where the bright-filament would be which explains the light in the eyes of oncoming traffic. Adjusting to prevent this often hit the limits of the enclosure's ability to be adjusted or resulted in poor light coverage for the driver. Another side-effect was there wasn't enough room to get another HID emitter to be the high beam so HID conversions usually caused you to loose the ability to have high beams. If you wanted them, you had to add aftermarket auxiliary high beams. HIDs also aren't instant-on. This was the state of things in the mid 2000s.
Somewhere in the mid 2010s, LED technology actually got to the point where you could create an array of LEDs that produce enough Lumens (LM) to be a headlight. But again, light density was still a problem. But that didn't stop conversion kits from coming on the scenes. With lack of real concern for oncoming traffic, people upgraded to get the unique LED-look. But then there's laughable arrays like this where NO concern was put to getting light into the focus: This style bulb works just fine for low-output applications like markers, brakes, and blinkers. My truck has Red LED 1156s for the brakes as well as dual color white/amber LED 3157s for blinkers. They work great and look very similar to this. But it's a joke to think this would actually have value as a headlight.
Then there's the Chip-On-Board (COB) style LEDs which are basically flat-panels of LOTS of tiny LEDs that work as a single unit: These obviously did a much better job of being able to focus, but light density was still a problem. That flat surface is still substantially larger than a filament, but they actually do put out an impressive amount of light. These came in 2, 3, and 4 sided versions with the ones that are capable of a high and low beam most commonly being the 4-sided style where 2 sides were the low-beam and 2 were high-beam. It's a good theory, and in some enclosures, they work OK. But they often don't have the "control" of light and thus cause more scatter and thus glare to oncoming traffic. Parabolic reflectors have a great efficiency at projecting light that's sourced at its focal regions, but the further the light source gets from those regions, the less controlled it is at picking up the light and projecting it where you actually want it. 2-sided designs are better at getting the LEDs closer to that center than 4-sided designs.
As light density got better, you started seeing these:
CREE style LED with built-on lens
These are getting closer, but still not quite as good mainly because the lens is working against the enclosure because it is refracting the light out where the housing is designed for the light to be concentrated in a much tighter region of the housing. Again, they aren't horrible, but they aren't as good as it can be.
But today, complements of a company named Lumileds (since bought by Philips and I think resold), we now have the LUXEON Z ES series LED chips, which allows for designs that very-much mimic the shape of filaments, produce way more lumens than halogen filaments do, all while using less electricity to do so even when compared to COB LEDs: The strips with the blocker hood are the low-beam chips.
And like anything, where there's a demand with a high supply price, competition steps in. Unfortunately competition isn't always producing equal quality...nor are they always ethical about their marketing. While Lumileds developed a very high quality LED with tight density, a Chinese company has cloned their design ALMOST exactly. Yay for competition...
The catch is the Chinese versions aren't as good, by about 1/2...or at least that's what Philips claims (but of course they would). Traditional high output COB LEDs, which are popular in auxiliary LED light bars, are around ~5w/chip (for the quality ones). These ZES chips are closer to 2-2.5watts/chip and produce 220-250 LM/chip. I don't know what the knockoffs are rated (probably couldn't trust the specs if you found them), but it's assumed they have a lower LM/watt efficiency and who knows how well they'll last or how quickly their light output will degrade over time even if the chips don't completely fail (output fade is a problem for most high output LEDs).
Here's an article detailing how to tell the difference between genuine ZES chips and the knock-offs:
Beware of Fake Luxeon ZES LED Headlight – Big potential danger to your car
The only "danger" I'm aware of is the loss of profits and brand-damage to Lumileds when inferior brands sell their knockoffs as genuine. Headlights burn out all the time. That's hardly dangerous.
Anyway they aren't wrong about fakes being out there claiming to be genuine. If you go looking on eBay, the market is littered with cheap knock-offs claiming to be genuine. I'm not sure how diligent Amazon is about culling their counterfeit sellers, but I'd guess fakes are over there too.
But getting a counterfeit isn't my main concern right now. My concern is with the design of LEDs and what kind of beam pattern I'll get using LED conversions in my headlight enclosures. Almost all of them orient their chips axially. However my headlight enclosures in my Ranger are designed for 9004 bulbs which orient the filaments transverse. Notice that despite the two bulbs using the same exact connector, the wiring is different. Why wouldn't they have keyed the electrical connector to be idiot-proof like they did the bulb-collar and enclosures?
Most OEMs found the 9004 to be inferior to the 9007 due to the "old school" orientation of the filaments. I think 93 is when Rangers swapped over to 9007. Having them axial makes it possible to "clock" the bulb in the housing to fine tune the light pattern produced...something you simply cannot do with a transverse-oriented filament. Almost all LED conversion kits today allow you to clock the bulb to get a light pattern you like.
Early on, I just assumed I'd find 9004 LED conversion kits with LED chips setup transverse. But I didn't. Every brand of 9004 conversion bulb I found looks like that brand's 9007 counterpart. The only difference is the keyed-ring at the base of the bulb that allows it to lock into the housing. And based on before-n-after youtube videos of people doing 9004 conversions, it doesn't matter. The kits evidently detect and handle the wiring difference electronically because I've yet to find anybody that said they had to rewire their connectors.
I did quite a bit of Youtube researching watching both individuals as well as companies doing reviews of the various LED conversions out there. And there are some really good videos available that covera dozen or so different brands and designs where they show not all LED conversions are created equal. After I'd done enough looking to realize the ZES style LEDs were the best thing going today, I decided I'd give them a try.
So I went on ebay and scoured looking for the cheapest kit that had the tiny LED chips and found it.
Pair 9004 LED 1020W 153000LM Headlight Kit High/Low Beam Bulbs Light 6000K White
There are so many 1/2 truths and falsehoods in this listing, it's too many itemize. Many of the specs are copied from legitimate vendors, others just made up. Notice some of the images out-right say they use GENUINE Philips LUXEON ZES chips! Even the title has red flags. It advertises the kit as 1020w/153,000LM (100% BS made up numbers). The legitimate Lumileds ZES kits using 16-chips (8-chips per beam) are spec'd no where near these made-up BS values. Most kits using these chips are rated at 4000 LM. What some listings are unclear on is if that is per bulb or per set. That forced me to dig deeper. Lumileds specs the LUXEON ZES 6500k chip to 220-245LM/chip with a conversion efficiency of 125LM/watt which puts them at ~2w/chip. Given these bulbs use 8-LEDs/beam (4 front+4 back), I calculate each bulb to be 16w(low)/16w(high) and ~2000LM/~2000LM (generously rounding). So 4000LM/set is probably what that advertised number represents. Although this Amazon link for 9008s, not 9004s, explicitly says 4000LM/bulb, 8000LM/set which is annoying given you don't use low and high beams at the same time on dual-beam bulbs. BTW, what I received look just like these:
Amazon>TURBOSII H13 9008 Led Headlight Bulbs Head Lamp High/Low Beam PHILIPS Chip 6500K 8000LM Conversion Kit
For reference, a stock halogen 45w(low)/65w(high) 9004 bulb is rated at 700/1200 LM. From a pure light-output comparison, if the knockoffs can output 1/2 the LMs the genuine ZES chips can, then there's the potential for the knockoffs to be an improvement over stock bulbs...at least for low beams.
Like I said, I knew without a doubt that the listing wasn't for what it was advertised to be. And sure enough what I received were counterfeits...but pretty good counterfeits. Ignoring the counterfeit LED chips, the overall construction is not bad. They look identical to the real ones. The listing is for $35 shipped. I think the genuine kits of this design are $80+. The design is close enough that if these produce a poor beam pattern, I'll know even the genuine ones wouldn't perform any better in my housings. The only difference between these and the real ones would be the brightness and longevity. Again, it's the beam pattern is what I'm more interested in evaluating. If these do actually perform well, I'll run them until they fail and consider replacing them with higher quality stuff.
Now you might be asking yourself why I'm doing all this research into LED conversions when aftermarket 80/100w 9004 halogens with the blue glass (5000-6000k) are significantly cheaper than even the knockoff kits. Well that's exactly what I've got now. I've used the higher wattage 80/100s for YEARS in both my 89 Ranger (9004) and 97 Ranger (9007). But after this latest deer-incident, I replaced my headlights with aftermarket headlights. These new enclosures aren't producing as nice of a beam pattern. The best way I can describe it is splotchy. The pattern has holes in it and when the headlights are shining on a flat white surface, you can literally see the filament windings in parts of the projected beam pattern. The performance at night isn't bad. They aren't to the point of being unsafe to use. And surprisingly, they don't produce glare for oncoming traffic. But I can see the unevenness of the beam pattern on the road particularly as I go up and down hills. The splotchiness of the beam pattern makes me wonder if the housing's reflector design was borrowed from a similar enclosure intended to use axially oriented filaments. Some of this could also be the aftermarket enclosure is a clear-front enclosure where the stock headlights use a translucent plastic cover to further refract and focus light into a more uniform beam pattern.
Here's a stock 89 Ranger headlight: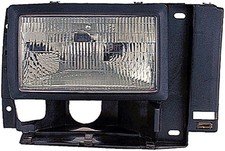 This is what I have in there now. Notice how the front is clear, not translucent:
Regardless, it's got me curious if I can get a better beam pattern from an LED conversion. So I'm trying it just to see. I'm hoping to get some time this weekend & see how they do. But I won't be disappointed if they are underwhelming. At the very least, the research has been entertaining.
If anybody's interested in the Youtube links I found most useful, I can post them up as well.
Also part of my research included learning why some conversion kits use external boxes and what exactly those boxes are doing. I can include that info if others are curious...an no they aren't ballasts like HIDs require.